Federal Marijuana Bill Isn't Enough To Fix Drug War's Harms Without State Action, NAACP's Legal Arm Says
Nebraska Legal Panel Says Lawyers Can Invest In Medical Marijuana Businesses
Schumer Touts Senate Marijuana Research Bill Among 'Historic Progress' Under Biden As Legalization Measure Lingers
Colombia's New President Talks Up Marijuana Legalization, Freeing Prisoners And Exporting Cannabis To Other Countries
California Bills Allowing Interstate Marijuana Commerce And Protecting Employees Advance, While Psychedelics Legalization Fate Unclear
Top Federal Health Agency Wants Input On Marijuana Research Barriers, Including Schedule I And Limited Strain Access
States That Legalize Marijuana See 'Significant Reductions' In Synthetic Cannabinoid Poisonings, Study Finds
Feds Seek Contractor To Help Test Marijuana Compounds In People's Breath
Colleges In States That Legalize Marijuana See A Boost In Application Numbers, Study Finds
New Study Says Legalization Hasn't Caused More Teens To Try Cannabis
SXSW Opens Voting On Nearly 100 Marijuana And Psychedelics Panels For 2023 Festival
NBA Players' Union Partners With Former Star Al Harrington On CBD Product Line To Be Sold By Amazon And Walmart
White House Affirms Brittney Griner Is 'Wrongfully Detained' After Guilty Plea In Russian Cannabis Case, Prompting Calls For Domestic Reform
Neil deGrasse Tyson Wonders What Other Plants Can Get You High That People Just Haven't Tried Smoking Yet
Florida Officials Announce Winners Of Student Hemp Innovation Essay Contest
Michigan Breaks Monthly Marijuana Sales Record In July, State Data Shows
Colorado Marijuana Shops Are 98 Percent Compliant With ID Checks To Prevent Underage Sales, State Regulators Say
Illinois Marijuana Sales Hit $135 Million In July, Second Highest Total Since Adult-Use Market Launch
Federal Labor Officials Field Complaints About Large Marijuana Businesses' Resistance To Worker Unions
Mississippi Businesses Rush To Compete For Medical Marijuana Licenses
Colorado Activists Say It's 'Very Unlikely' Second Psychedelics Legalization Initiative Will Make Ballot As Alternative To State-Certified Measure
New Colombian President Calls For End To War On Drugs, Earning Praise From Top U.S. Congressman
Arkansas Governor Tells Police To 'Stand Firm' Against Marijuana Legalization Ballot Initiative That's Heading To Court
Booker Says There's Republican Support For 'SAFE Banking Plus' Marijuana Compromise
Arkansas Marijuana Activists Plan To Defend Legalization Ballot Initiative In State Supreme Court After Officials Decline To Certify
CA cannabis & psychedelics bills advance to floor votes (Newsletter: August 12, 2022)
Feds look at cannabis research barriers—including Schedule I (Newsletter: August 11, 2022)
MO cannabis measure makes November ballot (Newsletter: August 10, 2022)
Cannabis patients are 'dangerous,' Biden DOJ says in gun suit (Newsletter: August 9, 2022)
AR lawsuit could get cannabis on ballot (Newsletter: August 8, 2022)
Published
on
By
AR court puts marijuana on ballot (but votes might not count); GOP congressman "hopeful" on psychedelics; NY retail apps soon; MD cannabis ballot info
Subscribe to receive Marijuana Moment's newsletter in your inbox every weekday morning. It's the best way to make sure you know which cannabis stories are shaping the day.


Your support makes Marijuana Moment possible…
BREAKING: Journalism is often consumed for free, but costs money to produce! While this newsletter is proudly sent without cost to you, our ability to send it each day depends on the financial support of readers who can afford to give it. So if you've got a few dollars to spare each month and believe in the work we do, please consider joining us on Patreon today.
https://www.patreon.com/marijuanamoment

/ TOP THINGS TO KNOW

The Arkansas Supreme Court ordered the secretary of state to certify a marijuana legalization initiative for the November ballot while a legal challenge is pending. But depending on the outcome of the case, the votes on the measure may never be counted.

The California Senate and Assembly Appropriations Committees cleared major drug policy reforms for floor votes—including bills to allow interstate cannabis commerce and protect people from losing jobs for off-duty marijuana use—but a bill to legalize psychedelics possession was amended in a way that wasn't  immediately clear, even to its sponsor.

Rep. Dan Crenshaw (R-TX) said he's "hopeful" that either his amendment on research into the therapeutic benefits of psychedelics for active duty military members with PTSD, or a similar proposal from or Rep. Alexandria Ocasio-Cortez (D-NY)—both of which passed the House—will make it through the Senate.
Maryland elections officials certified the final text of the marijuana legalization referendum that will appear on the November ballot, and prepared a summary of its provisions.

New York regulators announced they will begin accepting applications for the first marijuana dispensary licenses—exclusively from people impacted by the war on drugs—in two weeks.

Rep. Burgess Owens (R-UT) filed a new bill that would require the National Institute for Occupational Safety and Health to develop a program to prevent on-duty impairment from marijuana or other drugs by government employees.

/ FEDERAL

President Joe Biden issued a memo authorizing U.S. officials to continue intercepting and shooting down aircraft "reasonably suspected to be primarily engaged in illicit drug trafficking" in Colombia.

The Department of Veterans Affairs's National Center for PTSD will host a lecture on "Legalized Cannabis and PTSD Treatment" on Wednesday.

New questions are being raised about how a Drug Enforcement Administration agent avoided trial and returned to work after fatally shooting a neighbor he said was trespassing on his land.

Sen. Kevin Cramer (R-ND) discussed marijuana banking legislation at an Independent Community Banks of North Dakota conference.

New York Democratic congressional candidates agreed on marijuana legalization during a debate.

Florida Democratic congressional candidate Cindy Banyai tweeted, "I support full cannabis decriminalization and expungement of records."

/ STATES

Massachusetts Gov. Charlie Baker (R) signed a cannabis business and equity bill, but vetoed a section of the legislation that would have directed officials to study medical cannabis access for students in schools.

Florida Democratic agriculture commissioner candidate Ryan Morales spoke about his support for legalizing marijuana and psilocybin. Meanwhile, rival Democratic contender JR Gaillot tweeted, "I am the only candidate for Commissioner of Agriculture with a plan for the Cannabis and Hemp industry. I am not an 'activist', I am a Harvard educated professional."

A Kansas senator said revised medical cannabis legislation could be filed as soon as November.

A Tennessee representative tweeted, "Cannabis reform-favored by 81% of Tennesseans, including both sides of the aisle. I have sponsored or supported legislation for medical cannabis and decriminalization of cannabis. We are keeping legitimate treatment from veterans, cancers patients, MS patients, and so many more. We are incarcerating people (racially disproportionately I will add) for  a plant that is legally sold in most of the country. This benefits no one except our private prisons (I should mention I also sponsored a bill for a moratorium on private prisons.) How is this radical?"

Alabama regulators approved medical cannabis rules.

Colorado regulators adopted emergency rules on marijuana business ownership and employees.

Michigan regulators published a bulletin on maximum THC concentrations for infused products.

Maine regulators issued guidance on allowable THC variance in edible cannabis products, delivery services and timing for implementation of batch tracking and final form testing, among other issues.

The Pojoaque pueblo in New Mexico opened the state's first tribe-run marijuana dispensary.

Oregon regulators posted a summary of questions and answers from psilocybin services public listening sessions.

Kentucky's Medical Cannabis Advisory Committee met.

U.S. Virgin Islands regulators are expected to post proposed marijuana rules on Friday.

—
Marijuana Moment is tracking more than 1,500 cannabis, psychedelics and drug policy bills in state legislatures and Congress this year. Patreon supporters pledging at least $25/month get access to our interactive maps, charts and hearing calendar so they don't miss any developments.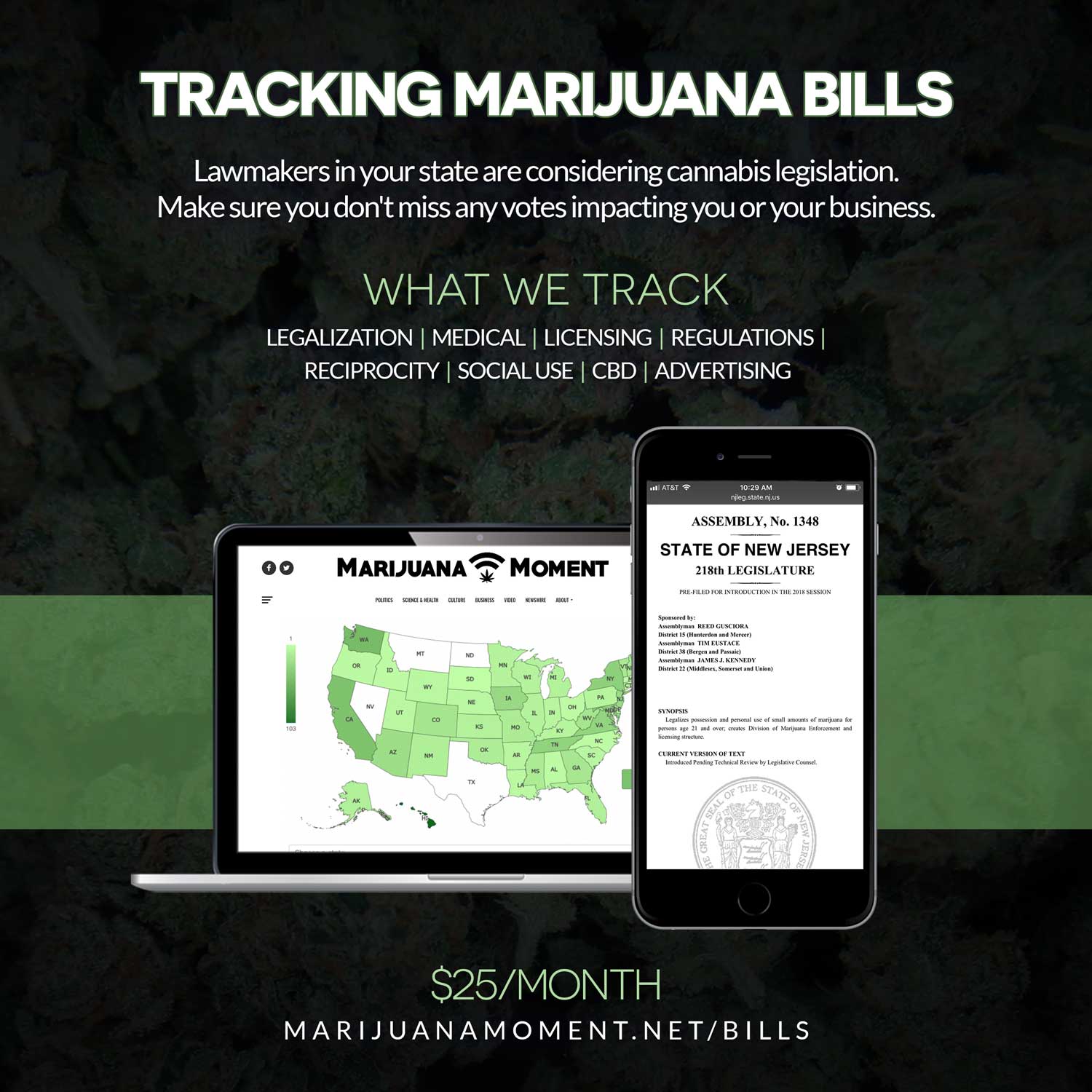 Learn more about our marijuana bill tracker and become a supporter on Patreon to get access.
—


Feds look at cannabis research barriers—including Schedule I (Newsletter: August 11, 2022)
Tom Angell is the editor of Marijuana Moment. A 20-year veteran in the cannabis law reform movement, he covers the policy and politics of marijuana. Separately, he founded the nonprofit Marijuana Majority. Previously he reported for Marijuana.com and MassRoots, and handled media relations and campaigns for Law Enforcement Against Prohibition and Students for Sensible Drug Policy.


All the cannabis news you need, all in one place. Copyright © 2017-2022 Marijuana Moment LLC ® and Tom Angell