California Bills Allowing Interstate Marijuana Commerce And Protecting Employees Advance, While Psychedelics Legalization Fate Unclear
New York Will Start Accepting Marijuana Dispensary Applications In Two Weeks—Exclusively From People Harmed By Drug War
Congressman Files Bill To Prevent Marijuana Impairment For Government Workers
Arkansas Supreme Court Orders State To Put Marijuana Legalization Initiative On Ballot, But Votes May Not Be Counted
Maryland Officials Certify Final Text Of Marijuana Legalization Ballot Question And Provide Summary Ahead Of November Vote
Top Federal Health Agency Wants Input On Marijuana Research Barriers, Including Schedule I And Limited Strain Access
States That Legalize Marijuana See 'Significant Reductions' In Synthetic Cannabinoid Poisonings, Study Finds
Feds Seek Contractor To Help Test Marijuana Compounds In People's Breath
Colleges In States That Legalize Marijuana See A Boost In Application Numbers, Study Finds
New Study Says Legalization Hasn't Caused More Teens To Try Cannabis
SXSW Opens Voting On Nearly 100 Marijuana And Psychedelics Panels For 2023 Festival
NBA Players' Union Partners With Former Star Al Harrington On CBD Product Line To Be Sold By Amazon And Walmart
White House Affirms Brittney Griner Is 'Wrongfully Detained' After Guilty Plea In Russian Cannabis Case, Prompting Calls For Domestic Reform
Neil deGrasse Tyson Wonders What Other Plants Can Get You High That People Just Haven't Tried Smoking Yet
Florida Officials Announce Winners Of Student Hemp Innovation Essay Contest
Michigan Breaks Monthly Marijuana Sales Record In July, State Data Shows
Colorado Marijuana Shops Are 98 Percent Compliant With ID Checks To Prevent Underage Sales, State Regulators Say
Illinois Marijuana Sales Hit $135 Million In July, Second Highest Total Since Adult-Use Market Launch
Federal Labor Officials Field Complaints About Large Marijuana Businesses' Resistance To Worker Unions
Mississippi Businesses Rush To Compete For Medical Marijuana Licenses
Colorado Activists Say It's 'Very Unlikely' Second Psychedelics Legalization Initiative Will Make Ballot As Alternative To State-Certified Measure
New Colombian President Calls For End To War On Drugs, Earning Praise From Top U.S. Congressman
Arkansas Governor Tells Police To 'Stand Firm' Against Marijuana Legalization Ballot Initiative That's Heading To Court
Booker Says There's Republican Support For 'SAFE Banking Plus' Marijuana Compromise
Arkansas Marijuana Activists Plan To Defend Legalization Ballot Initiative In State Supreme Court After Officials Decline To Certify
CA cannabis & psychedelics bills advance to floor votes (Newsletter: August 12, 2022)
Feds look at cannabis research barriers—including Schedule I (Newsletter: August 11, 2022)
MO cannabis measure makes November ballot (Newsletter: August 10, 2022)
Cannabis patients are 'dangerous,' Biden DOJ says in gun suit (Newsletter: August 9, 2022)
AR lawsuit could get cannabis on ballot (Newsletter: August 8, 2022)
Published
on
By
OK marijuana ballot title revised; CO dispensaries 98% compliant in age checks; SXSW cannabis & psychedelics panel voting
Subscribe to receive Marijuana Moment's newsletter in your inbox every weekday morning. It's the best way to make sure you know which cannabis stories are shaping the day.


Your support makes Marijuana Moment possible…
Hold on, just one second before you read today's news. Have you thought about giving some financial support to Marijuana Moment? If so, today would be a great day to contribute. We're planning our reporting for the coming months and it would really help to know what kind of support we can count on.

Check us out on Patreon and sign up to give $25/month today:
https://www.patreon.com/marijuanamoment

/ TOP THINGS TO KNOW

The National Institutes of Health is asking for scientists' input on barriers to marijuana research—including its ongoing Schedule I status under federal law and the lack of access to a variety of cannabis strains for studies.

Oklahoma's attorney general submitted a revised ballot title for a marijuana legalization initiative that activists hope to put before voters in November. The campaign says it is "pleasantly surprised" and doesn't plan to contest the language changes.

Colorado's Marijuana Enforcement Division said the state's cannabis shops have a 98 percent compliance rate in avoiding underage cannabis sales in stings involving operatives under 21.

South By Southwest (SXSW) is now accepting public votes on about 100 proposed marijuana and psychedelics panels for the 2023 event—including ones that would feature members of Congress, researchers, cannabis business owners and athletes.

/ FEDERAL

The U.S. Patent and Trademark Office is asking a federal appeals court to reject Joy Tea's case about registering a trademark for a CBD beverage.

Sen. Thom Tillis (R-NC) and four other Republican senators sent a letter pressing the Drug Enforcement Administration for information about its efforts to combat drug trafficking.

Sen. James Lankford (R-OK) plans to file legislation to oversight and transparency of purchases of U.S. agricultural land that could threaten national security, citing concerns about transnational criminal organizations taking advantage of Oklahoma's medical cannabis law.

Missouri Democratic Senate candidate Trudy Busch Valentine tweeted, "I'll be a yes this November on legalizing the adult use of recreational marijuana in Missouri."

Oklahoma Democratic Senate candidate Kendra Horn, a former congresswoman, called out opponent Rep. Markwayne Mullin (R-OK) for opposing medical cannabis and marijuana business banking access.

Missouri Democratic congressional candidate Bethany Mann tweeted, "I fully support the legalization of cannabis for recreational & medicinal use. Cannabis-related convictions should be expunged. I believe that small business owners should be able to grow & sell it, and not just large corporate monopolies #SupportLocal #LegalizeIt"

/ STATES

Washington, D.C. Mayor Muriel Bowser (D) tweeted, "You can now self-certify on the Medical Cannabis Application Form. Program fees have been waived by @DCGov_ABRA for new and renewal patient and caregiver applications submitted by August 18, 2022."

Nevada Gov. Steve Sisolak (D) highlighted what he says is an assemblymember's "simple and easy-to-understand video…about cannabis taxes and education funding."

Former Arkansas Gov. Mike Huckabee (R) said "we put a lot of people in prison in the United States for marijuana possession, so it's a little hypocritical" to criticize Russia for its harsh sentence for American basketball player Brittney Griner, who was convicted of possessing cannabis vapes.

South Carolina Democratic gubernatorial candidate Joe Cunningham, a former congressman, sent a fundraising email to the list of the marijuana-focused BOWL PAC  political action committee.

Washington State Senate Republicans highlighted the case of a police officer who "saved a toddler's life after they swallowed a fentanyl pill at a park" as "reason to fix problematic drug policy from the majority party."

A Kentucky representative tweeted that her bill to allow ballot initiatives would be a way for the state to legalize medical cannabis.

A Florida representative tweeted, "Legalizing cannabis for adult use enjoys broad bipartisan support, creates jobs and reforms our criminal justice system. That's why I joined forces with a Florida GOP Senator to file comprehensive legislation to get it done and I'll continue leading the effort once re-elected."

New Mexico regulators proposed changes to rules on cannabis taxes.

Connecticut regulators granted the state's first provisional recreational marijuana cultivation license.

Alabama regulators expect lawsuits about the medical cannabis licensing process and its residency requirements as the process gets underway.

Michigan regulators will host an education session on marijuana business risk management practices on Thursday.

—
Marijuana Moment is tracking more than 1,500 cannabis, psychedelics and drug policy bills in state legislatures and Congress this year. Patreon supporters pledging at least $25/month get access to our interactive maps, charts and hearing calendar so they don't miss any developments.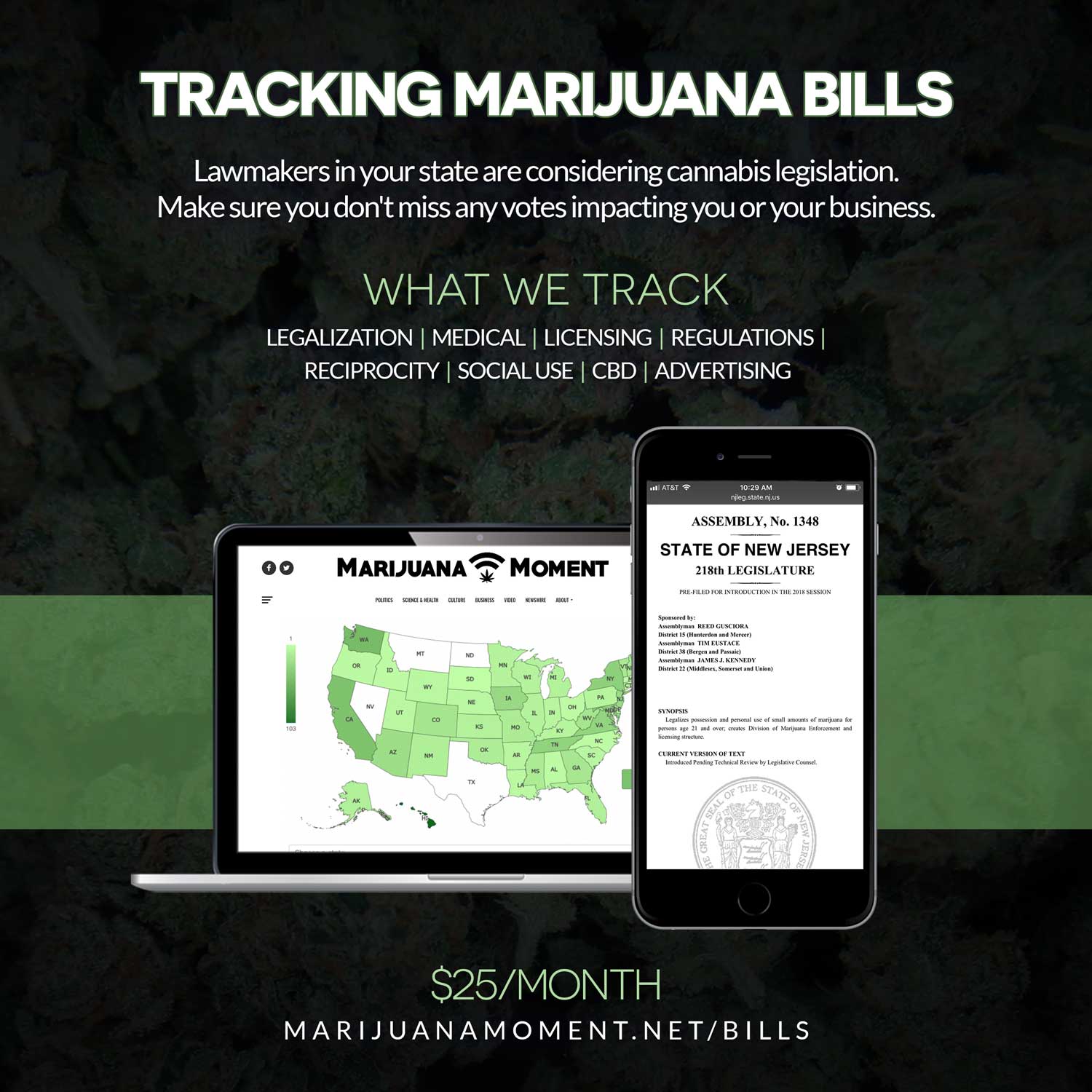 Learn more about our marijuana bill tracker and become a supporter on Patreon to get access.
—
Make sure to subscribe to get Marijuana Moment's daily dispatch in your inbox.


CA cannabis & psychedelics bills advance to floor votes (Newsletter: August 12, 2022)
MO cannabis measure makes November ballot (Newsletter: August 10, 2022)
Tom Angell is the editor of Marijuana Moment. A 20-year veteran in the cannabis law reform movement, he covers the policy and politics of marijuana. Separately, he founded the nonprofit Marijuana Majority. Previously he reported for Marijuana.com and MassRoots, and handled media relations and campaigns for Law Enforcement Against Prohibition and Students for Sensible Drug Policy.


All the cannabis news you need, all in one place. Copyright © 2017-2022 Marijuana Moment LLC ® and Tom Angell